We are moving from old paradigms to new dreams.  It has never been so important to make real lasting change in our lives.
Become Wild and Free!
This is a sacred Soul sanctuary where you will discover your own Celestial medicine and how to live inter-dimensionally, yet fully embodied here on the Earth plane.  It is time to let go seeking happiness outside and to go on the deep beautiful journey within to your own unique essence.
We are all magnificence yet waiting to be unlocked.  Life is our opportunity to master any chaos in order to rise beyond it. It is time to release separation, reactivity and fear and embody your shining potential.  Through the cracks in life and world crises, we discover the deeper 'why' to our lives. Your essential nature awaits its highest activation in order for you to become your own creator, a sacred leader and server in our new era.
As your energy field ascends to the vibration of love, you release karmic fear while simultaneously lifting your consciousness from the heavier densities of a 3D existence. In doing so you will join a revolution of light warriors committed to raising planetary love and connect with the support of your own Soul Tribe.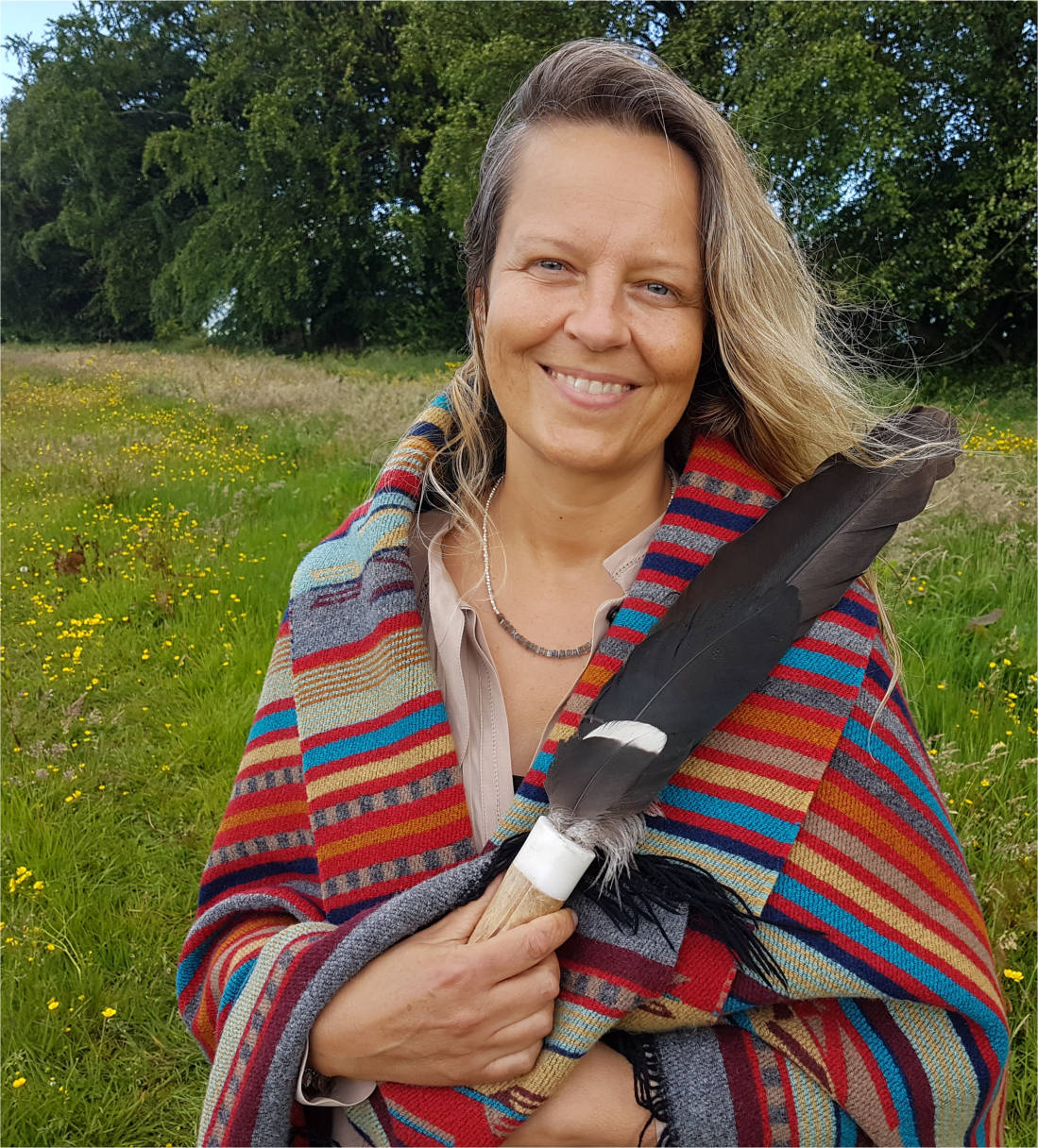 Your brave soul has chosen to be here during these unique times of change. Together  we will remember how powerful you truly are.
Having gained over 30 years' experience in Counseling Psychology, while studying numerous Esoteric systems, I wait equipped with an extensive selection of modalities to work with my client's individual needs. My studies have been deep and wide incorporating Shamanism, Sound and my own personal Cosmic healing, Human Design analysis and readings combined with Gene Keys, channelling Akashic Records, Yoga teacher training, Theta Healing, Breathwork and body centered work, along with The Artist's Way which helped open my channeled artwork.
In addition, I channel Animal Spirit art pieces of a high vibrational frequency which can assist with opening a portal to deep inner guidance. My artwork can be positioned in quiet spaces within your home or workplace to assist with meditation, contemplation or inclusion within your home altar providing protection and direction for the occupants. I can also assist you in discovering your own personal power animal to guide you in your life.
Let me accompany you on your journey of  self love and  empowerment and together  we will remember how powerful you truly are.  Open fully to love with your DNA and you will navigate your own Ascension Process. Ground yourself deeply in self love. Allow your Mind, Body, Emotions and Spirit to merge and create Health, Wealth, Vibrancy and Interconnectedness with all.
My role as a Soul Initiator is to transform the depths of duality and reintoduce the frequencies of Light. We now have the opportuity to fully transform and bring in the highest frequencies individully and collectively. I provide the container and magic to bring a Soul's highest potential into being.
Clarity About Who I Am
I thoroughly enjoyed my Human Design reading with Gill. It gave me a lot of clarity about who I am, what my gifts are and how I can use them with my life's purpose. Gill is so intuitive and compassionate. I can recommend her to everyone.
Bo Yan
Spiritual Teacher, Theta Healer & Osteopath
Big Shifts in My Life
I met Gill 3 years ago and knew the minute I met her that we would work together. I could feel that love radiate from her. Gill initiated me and allowed me step into the role of a Spiritual teacher with confidence. I began working with Gill in the Akashic Records. Their knowledge and wisdom is so pure and endearing. It allowed me to make some really big decisions. I continue to access the records through Gill and I have full faith in their guidance for me. What I have received has allowed big shifts in my life in all the right ways. Thank you Gill for bringing these various modalities to the World, for your ability to weave them together in a way that has such ease and grace. Your ability to see the person and see what they need at that time is a very beautiful gift and I am so grateful for having you in my life. Please jump head first into working with Gill! 
Nicole Marry
Geneticist, Holistic Health Practitioner & Spiritual Teacher
Glowing Recommendation
I would like to give Gill a glowing recommendation. I now not only know the ins and outs of my human design in depth but have full understanding. Before, I was operating in a different way than many other people. I didn't understand and thought there was something wrong with me. She helped me fully understand all my special qualities, aspects of my energy, how I came across in the World and to not feel like I needed to be anyone else apart from myself.
Shirley Joffe
Founder of Quantum Uplevel
Gifted & Diligent Healer
Gill is a gifted and diligent Healer.  She has studied many shamanic traditions, sound healing and the amazing Human Design system. Gill is a wonderful and compassionate healer and practitioner who I would have no hesitation in recommending.
Julie Dollman
Ayni Medicine Shaman & Andean Mystery Teacher
Gene Key Reading
I had a Gene Key reading with Gill and it really helped me to further understand my Human Design and the gates and channels more. I loved the way she spent a lot of time going into explanations and questions I had. She also does not just give you an answer just for your convenience. Gill helps guide you to where you need to dig deeper on a personal level because this is after all our own unique experience. She just exudes love and a deep wisdom that cocoons you in a beautiful cosmic blanket. I cannot recommend her highly enough.
Simrain Sondhi
Ceo at SSW Lifeestyle
Highly Recommend
I would highly recommend Gill without hesitation. She is such a warm, loving being with a huge heart and always works from heart with great integrity. She is generous with her vast amount of knowledge and skills, always looking to help people achieve their full potential. Gill is tapped into the pure source of Spirit and this is evident in her expression, her art, her healing skills and in the beauty of her presence. Anyone who meets Gill is immediately aware that they are in the presence of a very special person indeed. I am now honoured to now call her my friend.
Carmel Diviney
Owner of the Celtic School of Sound Healing, Author and Healer
Akashic Records
I would highly recommend Gill for an Akashic reading. Gill delivered her guidance and insights in a beautiful gentle way and she was spot on. The reading has really helped me to overcome problem areas of my life and give me clear understanding of how to do it.
Trish
County Wexford, Ireland
Breathwork
Working with Gill and the breathwork was one of the most profound experiences I have had. The depth of the work and the quality of holding Gill provided offered an unfolding of enormous well being practically in my body and as a resource for knowing my full potential. Those are grand words which only just touch my actual experience. I found Gill to have many skills to daw on and a beautiful commitment to authentic living.
Claire Casby
Co. Wicklow, Ireland
Highly Transformative
I have experienced a suite of Holistic approaches in the last twenty five years in both a professional and personal capacity. The work we did together was highly transformative for me and the after-care offered was thorough and considerate. Gill has talent and sensitivity and I am delighted I got to work with someone with so much experience and training. I felt safe and confident in her abilities as a practitioner and as a person. I highly recommend Gill in any field.
Ciara
Co. Wicklow, Ireland
She is An Exception Reader…
…As for the Gene Key reading that just blew me away! She was not only able to explain it in a really easy way but she really took the time to go through each one and what it meant for my life, how it had come through so far and the reason certain themes were popping up over and over again. She is an exceptional reader and not only was she able to read off the charts and information but she was able to really connect with me on a very, very intuitive level to pick out and go deeply into the pieces that would make a difference in my life. My life has definately changed because I am much more understanding of myself and the more I can now work with my strengths things have started to open up. I feel a sense of relief and relaxation. It has made big changes for the better in my life.
Shirley Joffe
Founder of Quantum Uplevel
Personal peace is not given to you by another, it can only be unlocked when you connect with your own personal Activation Code. This is when you will know what you need to do in your life, all of it will become Crystalline.
For those who wish to integrate on deeper levels with Gill on their journey towards Self mastery you are warmly invited to sign up to her newsletter.  The focus over the coming months will be more and more refined as we peel away the limitations of separation in order to open to our true essential nature. There are many profound courses about to unfold and you will be the first to be notified and given priority to book a place. By signing up you will also be the first to receive discounts and informed of free trainings which are planned in the coming months. A private facebook Tribe will be set up shortly to join together as a synergy in bringing our magical energies together and you will be personally invited. Come join and share in the beautiful openings of the Heart and Soul. You will be so welcome.